Description
These pouches are made of multi co-extruded layers providing exceptional features to this type of packaging, and form a second protective skin on the product. More expensive than normal vacuum pouches, they ensure optimal protection and limit the damage to the impact point only, leading to the product recovery. Various types of materials allow specific uses adapted to the packaged product. Therefore, this unique material has the potential to let the gas generated by the cheese escape while protecting it from the outside oxygen.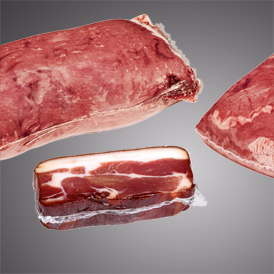 Usage
After the insertion of the product, the pouches are vacuum packed, then retract under the effect of fast rise temperature in a heat tunnel or immersed in 95° water. They are ideally designed for the packaging of fresh meat, with or without bones (beef, lamb, veal…), poultry and cheese. 
Properties
Outstanding product protection
Easily sealed
Outstanding barrier properties ensuring excellent flavour protection
High tear resistance
High perforation resistance
Variable permeability to gases depending on specific requirements
Excellent printability
Highly translucent
Shine
High retraction
Specifications
Multilayer co-extruded film.
Available in various standard thicknesses, from 75 to 220 microns.
Standard width from 100 to 500 millimetres for the 90 microns thick pouch.
Supplied loose in cardboard boxes or in reels.
Available as bottom side rounded (BSR), bottom straight seams (BSS) or with side seams (SS).
PVDC or EVOH layers providing high gas barrier.
Options
Variable permeability to gases
The choice of material will depend on the quantity of gas produced by the cheese during the maturation process (low, medium, high). The pouch will release the gas produced during the process while preventing the oxygen from migrating into the pack.
Cooking
Cooking pouches resist high temperatures and are the ideal packaging material for cooking (ham) or pasteurization at 85°C for an hour.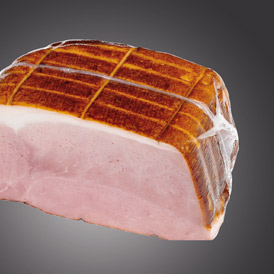 High perforation resistance
For the packaging of meat with thick or sharp bones, the use of high perforation resistance pouches is recommended. This exceptional feature means that the product is protected under all circumstances.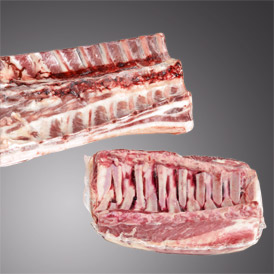 Low temperature resistance
These pouches can resist very low temperatures. They are ideally designed for frozen food packaging, such as meat or poultry.
Coloured films
The films are available in different colours, turning the packaging into the product's best spokesperson.
Printing
High printing quality: our printed pouches will capture consumers' attention and strongly enhance your marketing communications.