Description
The thermoforming technique uses semi-manufactured products such as plates or films made of rigid thermoplastic material.
The material is softened by heating, then formed by applying it on a mould that will define the final shape of the tray or blister.
The material will harden when cooling, keeping the shape of the mould. As soon as the product is introduces, the tray is covered by another film.
Our thermoformed films are very resistant and availble in various combinations following our clients' requirements .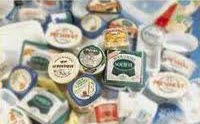 Usage
Our films are used on high speed horizontal thermoforming machines. They are ideal for vacuum or under protection gas packaging, maintaining the attractiveness of the product. The wide range of applications cover cooked and uncooked meat, fish, cheese, dairy and bakery products, fruit, ready meals, etc…
Properties
Outstanding product protection
Excellent derformability
High barrier properties
Outstanding seaming properties including on stained surfaces
Outstanding barrier properties ensuring excellent flavour protection
High tear resistance
High perforation resistance
Permeabilty to gases varies according to requirementss
Excellent printability
Highly translucent
Shine
Specifications
Thermoformed films are often made of multiple layers of variable complexity, depending on the application. The thickness of the base film is in relation with the depth of the packaging and varies on average between 60 and 500 microns. The thinner top film can be printed. The overall dimensions of the film vary according to the thermoforming machine's specifications.
Options
High barrier

For applications requiring high gas barrier protection, an EVOH layer can be added to the film.

High thermal resistance

For applications requiring vacuum cooking, pasteurizing and/or freezing, a high resistance thermal film must be used.

Extra perforation resistance

For the packaging of meat with thick or sharp bones, the use of high resistance films is recommended. Their exceptional capacity to resist perforation allows to protect the product under any circumstances.

Low temperature resistance

Our films can resist very low temperature. They are ideal for frozen products.

Pelability

This option allows easy opening of the pack, a feature often required by consumers, especially for sliced product such as cooked meat and cheese.

Anti-condensation

This option prevents condensation from building in the pack, guaranteeing therefore the attractiveness of the product.

Coloured films

The films are available in different colours, and contribute in shaping the brand's image

Printing

High printing quality of top film: the final packaging will capture consumers' attention and strongly enhance your marketing communications.